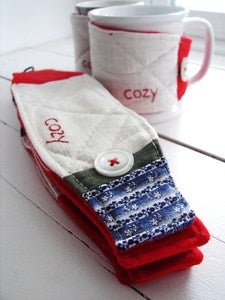 $

12.00
Fitting a standard size coffee mug, this quilted patchwork cozy is backed with red flannel and has an elastic/button closure. The word 'cozy' is embroidered in linen on the front, pretty much clearing up any confusion about (a) what this is and (b) how you feel about it. Two birds. One stone. I love animals, I promise.
Most people spend 99% of their lives drinking coffee. Why not enjoy that time instead of it being merely a guilt-infused rendezvous with your addiction? Allow us to introduce to you these fine, handmade cup cozies.
Like tea? It's a tea-cup cozy. Like coffee? It's a coffee cozy that also goes for hot chocolate, or minced prunes.
Snuggle up with the one you love. Coffee, or tea. Enjoy a good book, or even worse a bad one, and drink that coffee with your mouth. Just you worry about that mouth of yours and that beverage inside it. We've got your cup covered. Covered with a cozy handmade cozy, made by hands, right here in the United States. And just like snowflakes, which are also sometimes associated with coziness, no two Cozy Cozies are exactly alike.
Ships FREE within the continental US.
For a few different views, visit GinaGSmith.com/shop.