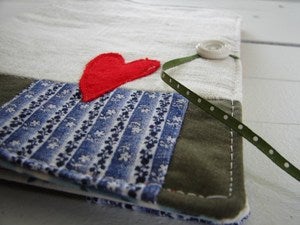 $

15.00
Patchwork, linen and flannel list taker holds a pen and small legal pad. (included!) Only one in stock.
Have you ever said, "Where's my shopping list!?" or "I wrote down her number somewhere!?" or "Where's that new quantum formula I thought of for time-travel?!"
Our beautiful list-taker is the solution you've been looking for all over the place, just like the shopping list you lost yesterday. It's ideal for the busy mom who writes down lists and would like to do so in one convenient place that can easily be found again.
Does your therapist advise you to doodle to decrease anxiety? Use the list-taker.
Like a thief of music, do you like to take notes? Use the list-taker.
Take control of your listing, improve your organization. Invest in a lovely little something to add some beauty to your life.
Ships FREE within the continental US.
"The List-Taker design is by Jennifer Casa - a tutorial is available at jcasa.etsy.com"
Need more pictures? Go to GinaGSmith.com/shop.